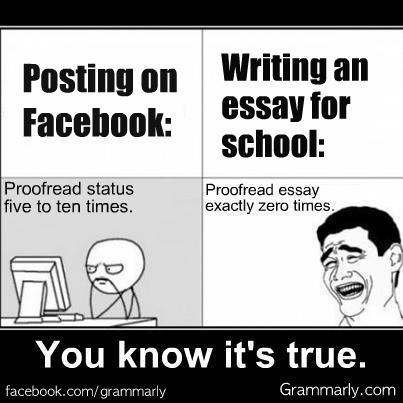 For your #WednesdayWrite, I have a meme for you, on the right side of the post. I know that you are writing proposals and reports (instead of essays), but the idea probably still applies.
The difference between Facebook (or Instagram or any other social media tool) and an essay is audience and purpose. With social media, you're trying to connect with a friend, another student, or a family member. You probably have very particular people in mind. With your writing for classes, that may not be the case.
So here's your #WednesdayWrite challenge (and I hope you will have some fun with this): Find another meme or cartoon that has to do with writing or communicating, whether in school, in the workplace, or with family and friends. Share the link to your image, and explain what underlying writing principles it relies on. For the meme here, I explained that it relates to audience and purpose.
Two ground rules:
Make sure it is appropriate for the class. It needs to be clean and avoid any kind of discrimination.
Don't repeat an image someone else has posted.
As I can, I will add the images so that they display on the post.
---