This is the post for the week of April 30, 2018.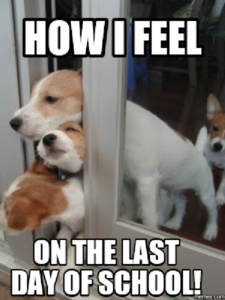 We are down to the last three days of the semester. To those of you graduating, best of luck to you in your careers. To everyone else, good luck as you continue to pursue your studies.
Readings for the Week
Review the readings from last week as necessary as you work on your final exam.
Reminders
If you have questions about readings, research, or writing, let me know. You can send me a private message in Canvas or send me an email message.
All transcript opportunities have been claimed for the term. No more transcript requests are coming.
Tasks for the Rest of the Term
By 11:59PM on Monday, April 30, submit your 04/27 Labor Log in Canvas, if you are using the grace period.
By 11:59PM on Wednesday, May 2, submit revisions, transcripts, and other work for all projects due. There is no additional grace period on these projects.
By 11:59PM on Thursday, May 3, complete your SPOT survey. Use the advice on the #WednesdayWrite: SPOT Evaluations (coming 4/25).
By 11:59PM on Monday, May 7, submit your final exam in the Final Exam: Performance Review assignment in Canvas. There is no grace period on the Final Exam. If you do not submit your exam on time (or do not submit it at all), your grade in the course will be lowered.
Calendar for the Rest of the Term
This is the same info as above, presented in a table. All submissions due by 11:59 PM.
| Day | Date | What's Going On? |
| --- | --- | --- |
| Mon | 04/30 | Grace period for 04/27 Labor Log ends |
| Wed | 05/02 | All revisions, transcripts, and other work for all projects due |
| Thu | 05/03 | SPOT Responses due |
| Mon | 05/07 | Final Exam due (no grace period) |
---