This week, I am sharing resources that will help you with your resumes, cover letters, and other job application materials, based on a request included in the midterm evaluations you submitted.
Lynda.com Login Help
Lynda.com videos are free to Virginia Tech students with your VT.EDU login. Start at the VT.EDU login page to access these resources.
You can find a treasure trove of tutorial videos that will help you apply for a job or internship on the Lynda.com site. You will find courses on LinkedIn, on improving your resume, and on conducting a job search.
I've created a Lynda.com playlist of Job Application Resources, from which you can choose a course or video that will help you with your job application process. Overall, there are 12 courses, consisting of 287 videos. You would need 16h 37m to watch them all. Of course, I don't expect you to do that. Instead pick and choose whatever will help you.
One of the videos I like focuses on Tips for college grads and early career (3m23s), which discusses issues such as what to do if you do not have any work experience and how to use formatting to pad out your resume without padding too much.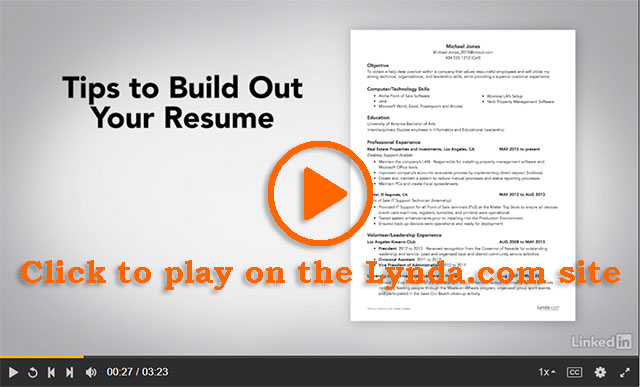 Note: This video has closed captioning, so it does not need a transcript.
---